A super-simple pie hack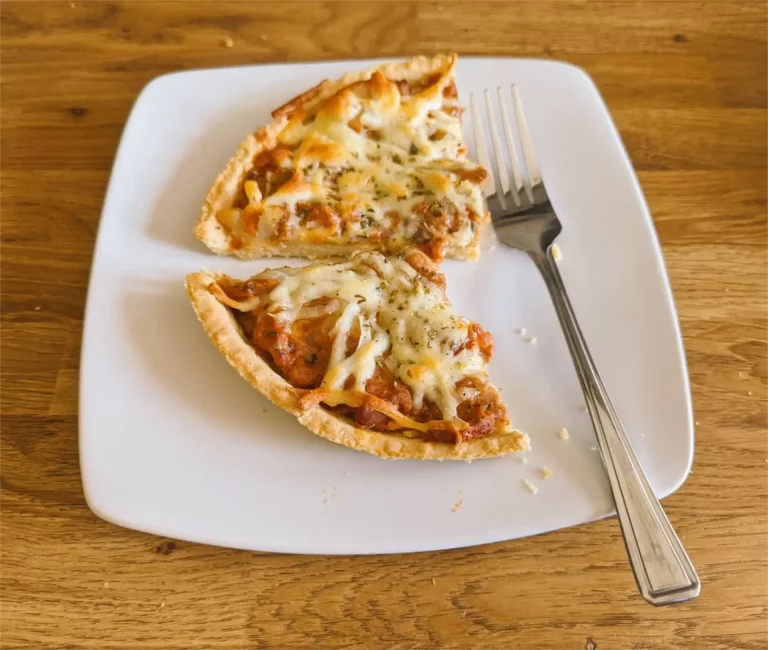 This week, I tweeted about something really simple – it is my pie hack for leftovers. It is a great way to ensure that not a skerrick of stew, casserole, pasta sauce or curry goes to waste. And we hate food waste here at Munching Matilda. I am almost embarrassed to devote a whole blog post to this pie hack, but there are a few additional tips I'd like to add, rather than doing another of my epic Twitter threads.
At the end of last week, I had some leftover shpundra – my take on a Ukrainian-inspired pork stew – and I didn't want to chuck it in the food waste bin. It was maybe enough for one bowl, but certainly not enough to feed the two of us here in the South London Test Kitchen. So, I popped to Asda and bought a pre-made savoury pie case. These cost about £1.
But first, a word of warning. When you buy one of these pie cases, be sure to undertake a close inspection for cracks, breakage and too many crumbly bits. And, for the love of all that is holy, do not toss it in the basket or trolley with reckless abandon, hurl it onto the checkout conveyor belt like a discus, drop it from on high into the bagging area, or pack it at the bottom of your bag-for-life. Basically, they're pretty delicate so treat them with the same respect as eggs.
I was able to safely transport the savoury pie case home and filled it straight away to minimise the risk of breakage. Armed with a spatula, I scraped the last of the shpundra from the pot and spread it evenly in the pie case. It was just enough to fill it nicely. I then grated a load of cheddar cheese on top, sprinkled with oregano, covered gently with foil and popped it in the freezer.
My husband and I were snowed under with work this week, so yesterday the shpundra pie was a really easy lunch option. I heated it up at 180 degrees C for 20 minutes and it was ready to eat.
Of course, if, unlike me, you are a decent pastry cook, there is no reason why you can't make your own pastry before turning leftovers into a pie. Occasionally, I turn my hand to pastry-making and, inevitably, I remind myself why I tend to favour store-bought pastry instead. Maybe if I had a magnificent, marble-topped kitchen island for extravagantly rolling out my pastry, I'd do it more often. But for now, I do what I can with a limited L-shaped kitchen, no island and a pretend-wood laminate worktop! There are many sound reasons why using readymade pastry is one of my favourite food cheats.
When it comes to turning leftovers into pie, there is no real limit as to what you can do to liven it up. Grating a load of cheese on top, as I did, is an easy way to add some extra flavour – after all, so many things are improved by the liberal addition of grated cheese – and a sprinkling of your choice of herbs and spices is always welcome.
If you are turning a pasta sauce into a pie filling, a mix of mozzarella and parmesan cheese on top saves having to add it when you serve. I'd probably add a dash of black pepper on top of the cheese for the full Italian restaurant experience and maybe some basil for good measure. Other ideas for adding a little extra to a pasta sauce pie include sliced black olives dotted on top, lashings of parma ham or prosciutto, or salami slices like a pie-cum-pizza. If you're making a pasta sauce pie, you are already making a conscious choice to sod the purists, so you may as well go the whole hog and create a pie-pizza hybrid.
And if you're turning leftover curry into a pie filling, there are a few things you can pile on top to make it a bit more special. Depending on the type of curry, a sprinkling of desiccated coconut on top can work well, or literally any herb or spice that you like to add to the pot – I'd be likely to go wild with mint, cumin, cinnamon or coriander. It is totally fine and much easier to use herbs and spices from the jar for this exercise. Another idea is to dot the top with cubes of paneer – although you might need a little bit more than 20 minutes in the oven to cook it properly if you reheat from frozen.
In short, this is an easy way to use up leftovers and throw together something that can look surprisingly impressive for minimal effort.