The Australian wines you might be missing out on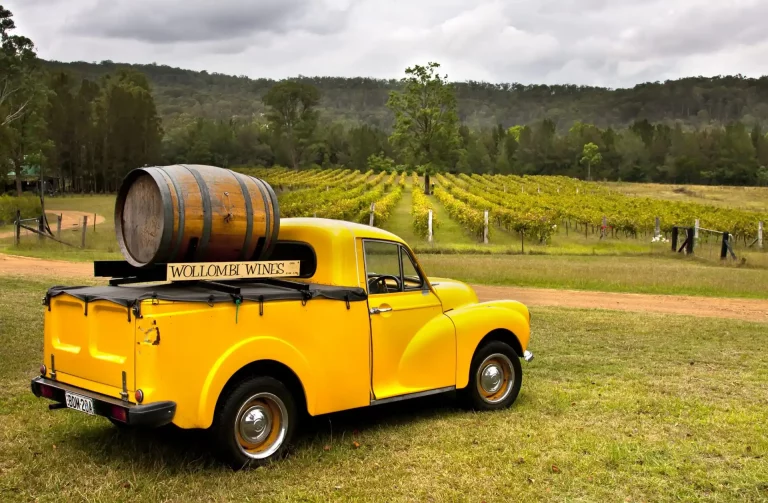 If you are simultaneously blessed with a lot of time and money, and you know where to look, you can seek out some really good Australian wines in the UK. But if you are like most people, and tend to pick up a bottle of wine at the supermarket or nearest offy, you could be forgiven for thinking Australian wine is all about Jacob's Creek, Hardy's, and Yellowtail. Oh, and that 19 Crimes wine with the black and white photo on the bottle, the one that does nothing to dispel the boring notion that Australians are all light-fingered convicts who'll nick your loaf of bread if it's not chained down.
Among mass market wines in the UK, the choice of good Australian wines at a reasonable price in a wide range of outlets is pretty poor. I really hope the average Brit does not think that a mass produced Jacob's Creek is not representative of the best of antipodean wine any more than the sickly Echo Falls or Blossom Hill plonks are representative of US vineyards. Like Foster's Lager, a really embarrassing beer that is literally nobody's favourite in Australia, Jacob's Creek is a triumph of marketing rather than a triumph of brilliant viticulture.
Just as well I can easily access some wonderful European wines for a reasonable price at a Co-Op that is just five minutes' walk from my house, or an Asda that is a five-minute drive away. But I do wish that some of my favourite Australian wineries were able to produce at a Jacob's Creek-rivalling scale for mass export to the UK. Hell, I would happily do the PR for a range of fine Australian wines that are either unavailable here or really hard to find if you're not sure what you're looking for.
Take Capel Vale, for example. Never heard of it? I'm not surprised. It is a winery from the state of Western Australia, with grapes growing in four different regions. I've never seen the bottles with the cute ducks on the labels in any British supermarket. In 2014, it was announced that PLB would be the distributor for Capel Vale wines in the UK, but only for four varieties – a chardonnay, a shiraz, a riesling and a shiraz – and only for specialist, independent and on-trade markets. Capel's Vale merlot and verdelho are things of beauty but they was never given a chance in the UK market. The four varieties were launched into this narrow marketplace at £14.49 a bottle, which is a price that is out of reach for many, especially at the moment. Not long afterwards, PLB was acquired by its competitor Bibendum. I just took a peek at the Bibendum website – they're not distributing anything from Capel Vale.
South Australia is probably best known for the wines of the Barossa Valley but there are plenty of wines from the less-famous McLaren Vale that deserve wider airplay. Chapel Hill, for example, does lovely wines as well as a very special port called The Devil Tawny. Unfortunately, you need to go sniffing intensively around the internet to find Chapel Hill wines that can be bought from the UK. I just found The Vicar, the winery's flagship shiraz, for £35.95.
And in my home state of New South Wales, the Hunter Valley is pretty well-known for good wines. I went there for my honeymoon in 2011 and, when I lived in Sydney, one of the highlights of the year was my friend Damo's annual squash club trip to the Hunter – the trips were a lot of fun, well worth the early start to get on the bus, and I managed to learn some useful stuff on the wine tasting sessions. On one of these trips, I discovered one of the few chardonnays that doesn't make me gag. Hungerford Hill is the winery, a lovely, family-owned establishment and they do a chardonnay that is soft and genuinely buttery – a much-overused term used to describe some very average chardies, but perfectly valid in this case. But unless you're able to pay £19 a bottle online, most UK drinkers will just have to take my word for it.
I'm not opposed to buying Australian wine in the UK – I use Hardy's Stamp of Australia shiraz as a combined cooking-and-quaffing wine, and I'll never forget my excitement when I got a bottle of my beloved Brown Brother's Tarrango for £7 at Sainsbury's nearly 10 years ago. But, with apologies to my Australian friends who tease me with endless tales of the wonderful local wines they have on their doorstep, I will continue to favour the affordable European wines for the time being. Maybe ask me again after Brexit properly bites in January 2021…