Sam sings the praises of grazing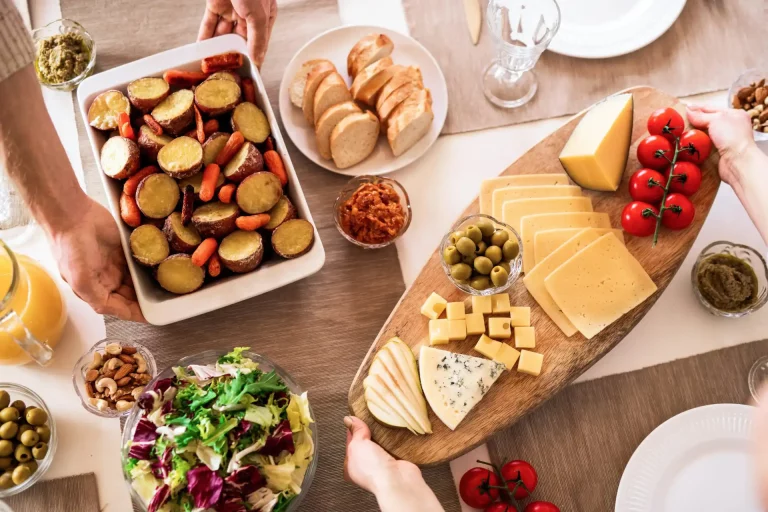 Many of the great cuisines of the world have a tradition of grazing on a variety of tastes: tapas in Spain, meze in the Middle East, dim sum in China.
I love the idea of having a little bit of lots of different things so, in English parlance, I adore a picnic.
It became a little ritual to have a grazing plate on Saturday nights when I settled down to watch Strictly Come Dancing. It makes a lovely experience even lovelier. I eat delicious bits and pieces whilst watching people dance beautifully.
My much loved brother-in-law is the king of putting together a grazing platter. At Christmas, he adds slices of left over stuffing and cold turkey and ham. Adapt your grazing plate to the time of year. In summer, I would have lots of tomatoes, herbs, and dips. In winter, I will have warmer things like halloumi fries and chicken bites.
My tips for a good grazing plate are as follows:
– Cheese is the basis of everything. Buy the best cheese you can afford (if you are lucky like me, someone will give you really great cheese as a treat/ I have no money so normally eat the cheapest cheeses I can find)
– Things like quince paste and chutney elevate even the best cheeses and help not-so-good cheeses enormously. Make them if necessary – they are easy.
– Cold meats go brilliantly with cheese. Prosciutto, chorizo, salami, ham etc. Add slices of a variety of cured meats. They are fabulous with cheese.
– Dried fruit and nuts are a lovely change of texture and, of course, they taste gorgeous.
– Some fresh fruit (apples, strawberries, pears) is delicious as an added texture and flavour.
– Good quality crackers or bread are perfect for elevating cheese or cured meat. If you go with bread, char it on a griddle and then rub with garlic and olive oil. Yum.
– Bruschetta is delicious. Think abut adding rocket and goats cheese (or feta) to the tomatoes and basil. Do not stint on the garlic.
– Things like olives and sun dried tomatoes provide a different texture and wonderful tastes.
– Let your mind run free. Eat what you love.
Happy grazing – and keep dancing!